The Fairy Chronicles, Wind Horses and Horned Lions, The White Sparrow, The Wishbone Miracle, The Time Entity Trilogy, Cassie Kingston Mysteries, The Gypsy Fiddle, Juan Noel's Crystal Airship, The Heaviest Things, Foo and Friends

Free E-Books

New Hardcover Unicorn Book: Wind Horses and Horned Lions

Also Available: The Fairy Chronicles Anthologies - All 60 Adventures in Four Hardcover Volumes, Plus the Fairy Handbook

Favorite Links Fairy Proverbs & Trivia Baskets Poetry Shorts National Parks Photos Sketches Sourcebooks' Fairy Chronicles Books 1-13

Author Mission Statement: I believe God employs many helpers to combat evil, helpers such as fairies, white sparrows, dragons, foo dogs, gnomes, and garden spiders. He also uses ordinary people, who become extraordinary by doing God's work. In writing about some of the adventures of these heroes, I hope to showcase and celebrate their hard work in spreading magic and helping to save our fallen world.

Additional Note: For anyone who enjoys the free e-books, please consider ordering some of the print books for donation to schools and libraries, or as gifts for friends, so that the stories can be shared with as many readers as possible. Your support in keeping this endeavor going is much appreciated. Reviews at online bookstores are also very helpful.
---
Wind Horses and Horned Lions
Discover a blueprint for finding a unicorn in the world of today:
The world contains many magical creatures, even some we haven't heard of, perhaps lost to written history, or possibly because people never encountered them, or simply didn't know what to call them. Or perhaps God is constantly creating new ones that haven't yet been discovered. Whatever the case, when Vini Aberdeen commits her life to Christ and begins searching for a unicorn, a creature of purity thought to be capable of bringing goodness back into our dark world, God provides her with helpers in the form of wind horses, creatures she's certainly never heard of, seemingly made of wind with powers connected to that awesome force.
Wondering if she should drop her quest for a unicorn, since she now has such amazing strength on her side to help combat evil, Vini soon discovers that God, in providing His assistance, is actually leading her to continue her search. However, with the multitudes of myths surrounding unicorns, Vini begins to feel she may never figure out how to find one, let alone discover the exact purposes or powers of the creatures. But she can't stop trying because, if she's successful, she just might be able to save the whole world. Christian/Fantasy Ages 11+ Hardcover Free E-Book
"God wouldn't have put unicorns into the hearts of man if they didn't exist; never stop believing..."
---
The White Sparrow
In order to spread the magic of the world, God employs many helpers, including white sparrows, who are tasked with bestowing gifts such as mercy, healing, working of miracles, and prophecy upon certain individuals. One might imagine handing out gifts from God would be hard work for the sparrows; but they get to have a little fun along the way, playing Connect-the-Dots to make the lives of certain people intersect. Jacob Woodbury, Chime Stouffer, and Shannon McNay are three such individuals, not only recipients of special gifts, but also destined to have great impact on one another and, quite possibly, the whole world.
All human beings have gifts; and when we first discover them, like anything new, they take some getting used to, especially when the gifts involve challenges. In working through some of these challenges, and in deciding which paths to take, we might well find ourselves wanting to give the gifts back, or at least wishing they came with instruction manuals so that we could know exactly what we are supposed to do with them. We all go through times of change in our lives, and the changes can sometimes be quite troubling. But if given a chance to change things, how many of us really would? Christian/Supernatural Ages 12+ Hardcover Free E-Book
Author Note: The White Sparrow is about making good use of the gifts and skills God has given us, and about making wise choices as we grow in our understanding and use of them. The story leaves several things to mystery, so that readers can find some of their own answers and imagine themselves within the characters. The book also contains Questions for Discussion at the end for use in classroom and youth group settings.
"When we focus too much on the things of the earth, we tend to miss the blessings from above..."
---
The Wishbone Miracle
Sometimes the proof of God's existence is right under our very noses, if we simply slow down and pay attention to our surroundings. And if we ask Him to reveal His presence, we shouldn't be surprised when He not only shows Himself, but also blesses us with the gift of a miracle.
Of all of the milestones in our lives, graduation from high school can be one of the most difficult and confusing times to go through. Entering her final year of high school, Ricky Halo struggles with making the right decisions as far as her future. Busy with school, family, and church activities, she also takes on a film project as a way of proving to skeptics that God really does exist. As the events of her journey unfold, Ricky, a steadfast believer, somehow manages to surprise even herself. But in addition to guiding others, can she find the answers to her own questions within the project? Christian/Supernatural Ages 12+ Hardcover Free E-Book
Author Note: The Wishbone Miracle is about finding God in our surroundings, and finding our Guide when making important decisions. The story leaves several things to mystery, so that readers can find some of their own answers and imagine themselves within the characters. The book also contains Questions for Discussion at the end for use in classroom and youth group settings.
"A miracle waits around every corner..."
---
The Fairy Chronicles®

The Fairy Chronicles is a series of modern fairy tales full of magical creatures, both good and evil, and heroic characters who participate in dangerous missions to protect nature and fix serious problems. The stories include a diverse set of fairy characters and a wide variety of other magical creatures such as trolls, brownies, witches, dwarves, gnomes, elves, squits, dragons, unicorns, goblins, wizards, ogres, magic gargoyles, gremlins, nymphs, ghouls, giants, and many more. Though the entire story of The Fairy Chronicles follows a specific timeline, the individual adventures are stand-alone books that can be read in any order. Fantasy/Fairy Tale Ages 7+ The Fairy Chronicles Individual Book Descriptions
"God gave fairies wings to remind them that no star is out of reach..."
Volume One Includes: Marigold and the Feather of Hope, Dragonfly and the Web of Dreams, Thistle and the Shell of Laughter, Firefly and the Quest of the Black Squirrel, Spiderwort and the Princess of Haiku, Periwinkle and the Cave of Courage, Cinnabar and the Island of Shadows, Mimosa and the River of Wisdom, Primrose and the Magic Snowglobe, Luna and the Well of Secrets, Dewberry and the Lost Chest of Paragon, Moonflower and the Pearl of Paramour, Snapdragon and the Odyssey of Èlan, Harlequin and the Pebble of Spree, Dove and the Parchment of Dulcet, and Cricket and the Enchanted Music Box. Ages 7+ Hardcover
Volume Two Includes: Blue, the Mermaid, and the Fisherman's Tale; Aloe and the Spring of Hale, Pumpkinwing and the Week of Opposites, Minnow and Mr. Keen - the Brilliant Troll, Teasel and the Halloween Mysteries, Calliope and the Land of Bliss, Heather and the Basket of Understanding, Honeysuckle and the February Garden, Sandpiper and the Ship of Pools; Brandtii and the Perils of Prima Della, Top Strawberry, and Big-Wag; Ginger and the Purple Ibex, Swan and the Realm of Hollowness, Larkspur and Alyssum Meet Sniggerbly Wiskerfink, Clover and the Flying Turtle, Arabesque and the Return of Clack Palaver, and Thyme and the Magic Dollhouse. Ages 7+ Hardcover
Volume Three Includes: Bumblebee and the Maze of Regret, Fern and the Candle of Friendship, Cherry and the Adventures of Pwensfourth-Greeves Mistooken, Ambrosia and the Elemental Fairies; Jasmine, the Journal, and Magnolia's Sacrifice; Raven and the Children of the Rainbow, Pennyroyal and the Last Rhinoceros, Lilac and the Secret of Obsidian, Sparrow and Edelweiss's Ghost;Quince, Amethyst, and the Forever Journey; Dandelion and the Box of Illusion, Hollyhock and the Christmas of the Swans, Eglantine and the Laughing Owl, and The Glass Fairy. Ages 7+ Hardcover
Volume Four Includes: Berylline and the Tree of Joy, Meadowsweet and the Magic Fountain, Jewels and Superheroes, The Adventures of Red Zipper, Laurel and the Inn of the Whispers, Apple and the Legend of the Western Star; Tea, Sterling, and the Heart of Fire; Scarlet, Willow, and the Two-Foot Witch; Obsidian and the Last Brownie Prince, Helenium and the Really Very Confused House, Azure and the Butterfly Fairy Convention, Snowdrop and Four o'Clock Meet the White Elephant and the Dancing Rabbit, Aurora and the Lights of Marfa, and Journey's End. Ages 7+ Hardcover
The Fairy Handbook: Ordinarily, Fairy Handbooks can only be read by their fairy owners. If a Fairy Handbook is ever lost, the pages will appear blank to any non-magical people who may find it and try to read it. However, Luna and Madam Toad worked together on a tricky magical spell to create this special version of the Fairy Handbook that can be read by any human being. Many of the fairies' friends, such as gnomes and leprechauns, contributed bits and pieces to the contents of this book; and they hope you enjoy reading it and learning more about them. Some of the sections include Fairy Superstitions and Leprechaun Good Luck Tips, Handbook Entries from the Shared Adventures, Fairy Proverbs, Gnome Gardening Tips, Character Profiles, Fairy Chronicles Legends, Troll Tidbits, Fairy Feng Shui Tips, Fairy Recipes, All About Brownies, and Fairy Chronicles Secrets. Caution: This handbook does contain spoilers to many of the books in the series. Ages 7+ Hardcover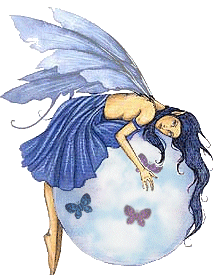 Characters: Meet Some of the Fairies

(Profiles for Apple, Edelweiss, Harlequin, Helenium, Jasmine, Raven, Sea Dragon, and Sparrow)

Meet Some of the Fairies' Friends (Profiles for Innin, the Flying Turtle, Big-Wag, Snickers, the Sweet-Smelling Man, Ju-ju, and the Candy-and-Flowers Monster)